Next Thursday May 23rd, André will host the third edition of our exceptional oenological evenings, during a savoury match between France and Germany. You will discover 2 exceptional vineyards who have been true to their names for 500 years, with a dish-wine pairing arriving in 6 stages, created by Paz Levinson, our executive sommelier.

IMMICH-BATTERIEBERG Domain
IMMICH-BATTERIEBERG is one of the oldest vinicultural domains in Mosel, purchased in the beginning by the Immich family in 1495, it has been producing traditional dry and semi-dry wines under their name for nearly 500 years. Now overseen by Gernot Kollmann, the domain's wines are 80% non-grafted, over 60 years old and handled using organic methods (although not certified).
MAISON TRIMBACH
The vinicultural origin of the Trimbach house goes back to 1626. Since then, twelve generations of rigorous and devoted Alsace winemakers have continually distinguished themselves through the quality and authenticity of their wines, patiently developing, from father to son, their solid reputation. It was in 1898, the year Frédéric Emile Trimbach received his highest distinction at the Brussels International Fair, that the name Trimbach achieved its renown international status.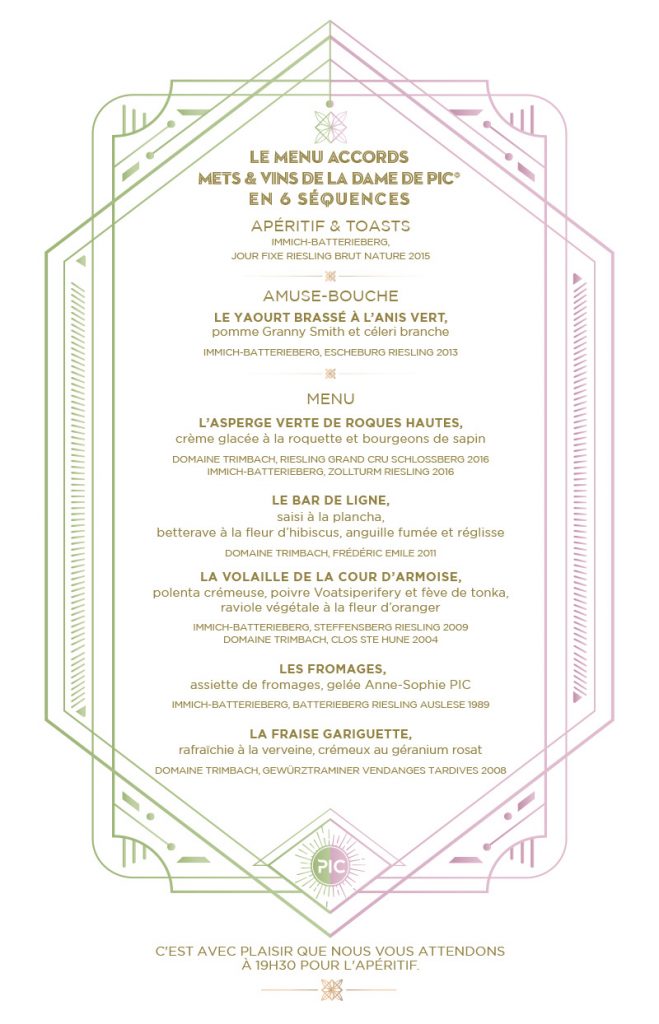 Menu in 6 stages, including dish-drink pairings
145 euros TTC per person
When la Dame de Pic Paris invites herself at André's, she puts the small dishes in the big ones.
🍷 Limited Space
☎️ Reservations at +334 75 44 53 86
Sign up now!
André – 285 Avenue Victor Hugo – 26000 Valence